California commercial-property brokers will be tightening up by the new set of laws that go into effect in January. Brokers will now be required to disclose to that they are representing both sides in a transaction. Some companies may find this troubling, but at Strategic transparency and full disclosure are always a top priority.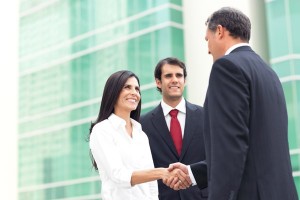 Excerpts from the Article: 
California commercial-property brokers are coming under the magnifying glass in California.
Last month, the state legislature passed a bill designed to discourage the practice of brokers representing both sides of a transaction in commercial-property leases and sales. The law requires brokers to fill out a form disclosing to the tenant or buyer when they also work for the seller, a practice that critics say sometimes occurs without disclosure, particularly on small deals.
Citation and link: Brown, B. (2014) Brokering New Ground in Commercial Property, WSJ, Real Estate, pg. 1  http://online.wsj.com/articles/brokering-new-ground-in-california-commercial-property-plots-ploys-1409692524\
Picture Citation & Link:   Hughes, J. (2014) Close the deal, hughesmarino, news, article, pg. 1
http://www.hughesmarino.com/articles/brokering-new-ground-in-california-commercial-property/